About Us
PHILOSOPHY
India Instruments was established in 1994 with the aim of making Indian musical instruments in professional quality available to musicians in Europe. Today we sell a full range of high quality Indian instruments, accessories and media at fair prices. To meet our high quality standards we co-operate closely with leading Indian instrument makers.

Moreover we try to support and promote Indian music and the competent use of its instruments. Therefore our website offers a lot of background information as well as a network section with concert and workshop dates and lists of teachers of Indian music and dance. And our e-mail newsletter does not only publish company news, but also reviews, reports, news and background stories on Indian music.

Beyond mere selling we see ourselves as a customer-oriented provider of services around Indian music. We care for your personal needs and look for the best individual solution for each customer. We know how enjoyable the right instrument can be and how to handle it. Therefore we offer competent advice and arrange contacts to teachers and repairers of musical instruments. We make every effort to ensure quick service combined with unbureaucratic rules for warranty on and the exchange of goods.
SHOP
We stock our complete assortment in our store in Berlin. You're welcome to visit us there, try everything out, ask questions and share your experiences - just make an appointment a few days in advance! We try to adjust as much as possible to your time requirements. Therefore, appointments are also possible outside business hours and on saturdays. Please call us at +49-30-6211724 or send a message to music(at)india-instruments.com.

We try to keep all items from our website permanently available. However, due to the long delivery times from India, any item might temporarily be sold out for a short time. So please check in advance if you're looking for a specific item.

Germany's buzzing multi-cultural capital Berlin is always worth a visit. There are great live events all year round and lots of exciting and inspiring museums and exhibitions as well. Our shop is located in the South-Western periphery of the city, in the more quiet and green suburb Zehlendorf with its impressive mansions and beautiful lakes.
QUALITY
Top quality is our fundamental principle. We don't buy wholesale but always deal directly with leading Indian instrument makers. Most of our partners are small and medium-sized shops, specialising in particular instruments. They are usually run at least in the second generation and have built up an excellent reputation among Indian professional musicians over several decades. Personal contact to these makers enables us to keep up a continuous dialogue, taking part in current developments and innovations and sharing our experiences in quality control and improvement.

We keep up-to-date with market developments and check out new or little known shops continuously. We change our partners if old traditional enterprises do not meet our quality standards anymore or if others come up with superior innovations, better quality, reliability or prices. As a result every single one of our instruments meets our unusually high quality demands concerning material, finish and tone. It comes from a well-known source and complies with the current state-of-the-art in the making of musical instruments. No matter in which price range: with India Instruments you are sure to get a quality product of lasting value.
INFORMATION
One of India Instruments' strongest points is our comprehensive knowledge. We provide extensive information on our website. And if you are not sure which item is just right for you, we will gladly assist you with our experience. The best way to place simple questions is via email. More complex issues, however, can be settled directly on the phone. We do not have fixed speaking times on the telephone, so if you don't reach us immediately, please leave a message with your name and telephone number, the reason for your call, and when we can get back to you. If you call us for the first time, please repeat your telephone number and your name slowly, pronouncing words and numbers distinctly to make sure that we get this necessary information right. We are looking forward to hearing from you.
ECOLOGY & SOCIAL MATTERS
Questions concerning ecology and social compatibility are of great importance for India Instruments. We buy directly from the instrument makers at normal Indian prices. Thus, we avoid merely profit-seeking intermediate trade, supporting the independence of quality-conscious small workshops.
Our instruments are imported directly from India by sea, being the environmentally friendliest way. The entire packaging material used for shipping (wood, cardboard boxes, paper, styrofoam, polystyrene and polyethylene film) is re-used or recycled. Packaging materials used for our dispatch, like cardboard, bubble wrap, padding material and re-used materials from India are fully recyclable.

We try to keep the paper consumption for public relation and communication down and do without a costly catalogue. Instead, we rely on the internet, on direct-mail promotion, and above all, on recommendations of satisfied customers - for buying an instrument is a matter of trust. Letters and information material are printed on recycled paper only.

Transportation, which is detrimental to the environment, is cut down by connecting living and working space closely.

All these principles do not only make sense from a social or ecological point of view but are, moreover, economically convincing because they keep our costs low. This benefit is passed on to you in the form of particularly attractive prices.
STAFF
India Instruments is run by musicians who have studied classical Indian music in depth.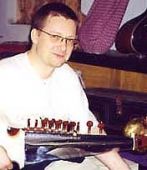 Norbert Klippstein - sarod player, store manager, repairs, website

Norbert Klippstein was born in 1961. He worked for various cultural, social and scientific projects before he joined India Instruments as a partner in 2004. He has studied sarod and basics of sitar, starting with lessons from Ralph Govinda Schlegel in the early 1990s. From 1995 to 2005, Norbert studied with Kamalesh Maitra in Berlin and took part in workshops with Ali Akbar Khan and Partha Chatterjee. He also studied with Tejendra Narayan Mazumdar in Calcutta and takes lessons from Ranajit Sengupta. Norbert was a member of Kamalesh Maitra's Ragatala Ensemble for many years and performed regularly as accompanist for classical Indian kathak dance and as a classical sarod soloist. He also teaches sarod and basics of sitar privately.

Being our store manager, Norbert handles all physical activities like checking, adjusting, repairing and shipping instruments and receiving visitors. He has studied techniques and materials of traditional Indian instrument manufacture with some of our suppliers in Calcutta and Mumbai and has developed unique skills in this field. Norbert is also in charge of our website, all technical issues and finance. He lives close to our shop in Berlin with his family.
Yogendra - sitar player, communications

Yogendra Jens Eckert - www.yogendra.de - was born in 1965, founded India Instruments in 1994 and runs the company in partnership with Norbert Klippstein since 2004. Yogendra has been studying Indian music with a focus on sitar since the early 1980s. His first teachers were Darshan Kumari (Amsterdam) and Dr. Trina Purohit-Roy (Bonn). From 1987 to 2000 he studied with legendary sarod master Ali Akbar Khan in Basel (Switzerland) and San Francisco. Since 1994 he is also a student of renowned sitar player Partha Chatterjee, one of the few disciples of Nikhil Banerjee and since 2011 guru for sitar at Sangeet Research Academy Calcutta. Yogendra composes for and performs with award-winning world music group Indigo Masala - www.indigo-masala.de - gives classical Indian raga concerts and accompanies classical Indian kathak dance. He also plays sitar for studio recordings and theatre projects, gives workshops and private lessons and writes on Indian music.

At India Instruments, Yogendra is in charge of e-mail communication, supply management and all text work for website and newsletters. He has a grown-up daughter and mainly works from his residence in Braunschweig.

Atul Krishna - khol player, freelancer

Atul Krishna was born in 1986 under the civil name Ashok Guran in the Netherlands. He is the son of immigrants from the former Dutch colony of Surinam. His ancestors had moved to Surinam four generations earlier as indentured labour from the East Indian regions Bihar and Bengal. In his very spiritually oriented family he grew up with bhajans, kirtans and ghazals, Indian classical music, temple life, Hindi lessons and reading Hindu scriptures. From the age of eight, he learned dholak, later on nall, khol, madal and tabla. At the age of ten the spiritual master Srila Bhaktivedanta Narayana Maharaja initiated him into the Bhakti tradition and gave him the name Atul Krishna. In 2004 he went to India for the first time to deepen his studies in khol and tabla. Two more trips to India followed and he spent years as a traveling musician in Belgium, France, Spain, Italy and Great Britain.

Since 2007 Atul lives in Berlin and is an active musician in the yoga scene. He plays regularly with his group Bliss Kirtan at the Jivamukti Yoga Centre. He also performed in several pieces on the wonderful CD Heart and Soul by the Kirtaniyas. His special contribution to India Instruments is his extensive experience with various North Indian drums and the music of the Bhakti tradition. He is also a great help with current computing work in the background and with unloading, packing and maintenance of our instruments. Not least, his reliability, his sharp mind and his humor always contribute to a good mood.