Bansuri
Click on image or title for further details and orders.
Leifer, Lyon
A comprehensive beginning course in the technique of the bansuri in the tradition of Pannalal Ghosh, based on the teaching of Devendra Murdheshwar. Profusely demonstrated with audio files, charts, exercises and photographs.
EU: 39 €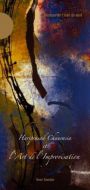 Tournier, Henri
Improvisation is essential to the performance of classical Indian ragas. This media package is the foremost guide to improvisation in classical North Indian style. It provides fascinating insights and challenging study material for bansuri players, other melody instrumentalists, singers and musicologists alike.
EU: 39,90 €
Bor, Joep (editor)
196 pages + 4 CDs with performances of Hariprasad Chaurasia - flute, Buddhadev Dasgupta - sarod, Shruti Sadolikar - female vocal, Vidyadhar Vyas - male vocal (total playing time: 5 hours 15 minutes). The Raga Guide is a great introduction to Hindustani ragas, the melodic basis classical North Indian music - and also THE modern reference work for listeners and connoisseurs, students and scholars.
EU: 44,90 €