Various String Instruments
It is really worthwhile to discover the world of Indian string instruments: Most of them have a unique sound particularly rich in overtones thanks to their sympathetic strings. Some are played with unusual techniques to produce the typical sliding melody movements. We carry a wide variety of plucked instruments as well as swarmandals and santoors.

You can find our Special Offers for String Instruments here.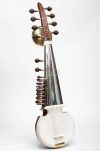 SAROD
The sarod with its fretless metal fingerboard is one of the most important melody instruments of classical North Indian music.
SLIDE GUITAR
Indian musicians have given a new dimension to slide guitars by adding sympathetic and drone strings.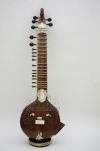 DHRUPAD
Dhrupad instruments have a sophisticated construction, a deep, majestic sound and are very rare nowadays.

SOUTH INDIA
The saraswati veena is the South Indian equivalent of the North Indian sitar.

BOX ZITHER
A box-shaped resonator and separate strings for each note are typical for these instruments.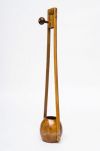 FOLK & CHANT
Many Indian folk instruments are easy to play, small, simple and without sympathetic strings.